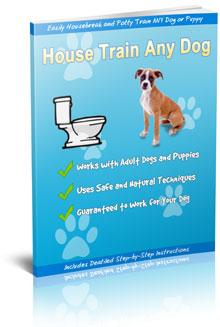 How To Housetrain & Potty Train Any Dog - Ebook
Ebook- Learn the Secrets to 
Completely Potty Train Any Dog or Puppy 

Quickly and Easily

in

 

7 Days or Less.
Introduction.
It's essential for Dog parents like you to know certain basic factors that determine your relationship with your Dog and can go a long way in training him effectively.
The first 2 Posts provide general dog training tips. The 3rd Post is on house training. The 4th Post is on grooming:
eBook 

How To HouseTrain & Potty Train Any Dog
The eBook.
WATCH HERE ▶ How To Housetrain & Potty Train Any Dog
Recommended Actions:
Thinking about How to Adopt Dog or Puppy?
Refer Friends. Share On Facebook, Follow On Twitter.
Get Connected. Sign Up Now, Don't Miss Out On Important Updates.
Share Yor Comments With Us.
Sign up to Newsletter
Get the latest news & updates from GreatmyPet