ButtonBuddy-Interactive Dog Toy
---
Teach Your Dog How To Speak With 4 Color Buttons
You don't have to be a mind reader to understand what your dog wants anymore! Our sound buttons give your pets the means to express themselves in your language!
😍 FREE Shipping Today! 😍
ButtonBuddy can record words and sounds then play them back every time you press the button, then all you have to do is teach your doggo what each button means.
When your dog has a way of talking with you, there will be no need for barking! Give your pet a button for all their needs and expressions and you'll always know what's on their mind!
Four Buttons, Four Colors, Four Commands.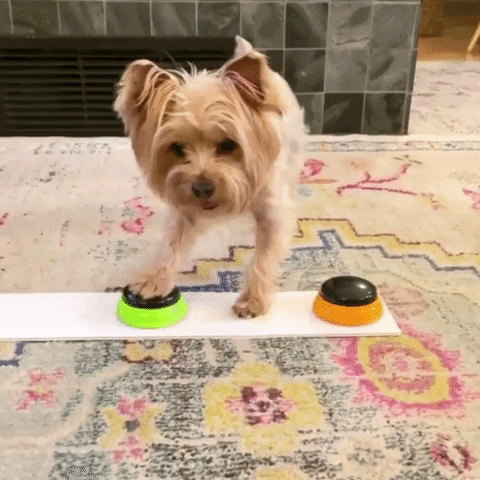 😍 FREE Shipping Today! 😍
👉 Just Click "Add To Cart" Button To Order Now!
Additional Notes:
Speak the same language- Break the communication barrier, teach your pet what each button means to give them an easy way to tell you what's on their mind!
Hear their needs- You can stop guessing what the barking means, give your pet a way of expression you'll easily understand!
Be a better owner- Forget to fill the bowl or take them for a walk? Don't worry, with ButtonBuddy's help your pet can always remind you!
ButtonBuddy is the ultimate choice- Communicating with your pet can be easier than you think, all you need is ButtonBuddy to start speaking the same language!
Please allow 2 to 4 weeks for delivery.
👉 Just Click "Add to Cart" Button To Order Now!