Notified by email when this product becomes available
Teach Your Dog How To Speak With 4 Color Buttons
You don't have to be a mind reader to understand what your dog wants anymore! Our sound buttons give your pets the means to express themselves in your language!
😍 FREE Shipping Today! 😍
Four ButtonBuddy can record words and sounds then play them back every time you press the button, then all you have to do is teach your Dog what each button means.
When your dog has a way of talking with you, there will be no need for barking! Give your pet a button for all their needs and expressions and you'll always know what's on their mind!
Four Buttons, Four Colors, Four Commands.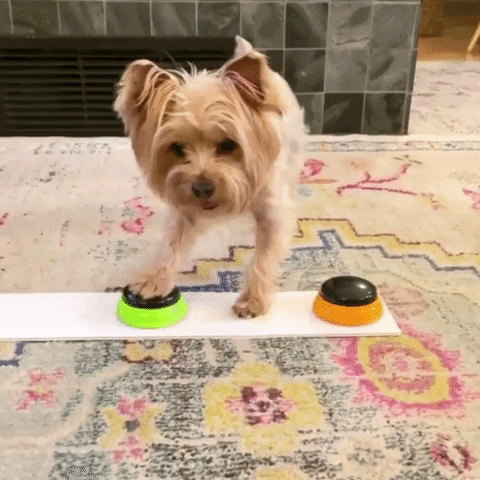 😍 FREE Shipping Today! 😍
👉 Just Click "Add To Cart" Button To Order 4 ButtonBuddy!
Additional Notes:
Speak the same language- Break the communication barrier, teach your pet what each button means to give them an easy way to tell you what's on their mind!
Hear their needs- You can stop guessing what the barking means, give your pet a way of expression you'll easily understand!
Be a better owner- Forget to fill the bowl or take them for a walk? Don't worry, with ButtonBuddy's help your pet can always remind you!
Please allow 2 to 4 weeks for delivery.

👉 Just Click "Add to Cart" Button To Order Now!
 Welcome to GreatmyPet Reward Program
Earn points only by joining the program...
 S

tart redeem your points:
HOW IT WORKS
Step 1: Click on "REWARDS" icon
 on bottom right and "JOIN" to start earning points.  
Step 2: Earn points for every actions you make. Select "EARN POINTS" tab inside "REWARDS" menu and see list of activities available for you to take part. 
Step 3: Redeem your points for exclusive gifts and discounts by just select "REDEEM POINTS" and decide what you want.
Step 4: You can see your balance at any time:
Step 5: And you can also earn rewards for every time you refer a friend. It means you win and your friend wins.
Join now the REWARD PROGRAM and start win and save as a member.
Just Click "Add To Cart" Button To Order Now!
Just Click "Add To Cart" Button To Order Now!